June 15, 2005
Corner Store
For 422 our local corner store is Little Jacks. When i lived in East Town we essentially lacked a corner store. Maybe Sami's? I get a certain amount of pride from having a corner store of my very own. it is though i'm part of a small community of people who go there when they require, sunkist soda, and hot cheese o-ke doke, (at least in my case). I mean it's pretty exculsive. If you lived on Diamond you'd have no reason to come to Little Jacks. And though i'm sure you'd be welcomed there, it would be understood, you are a stranger in these parts. I felt that way when i first moved to 422. I went to the corner store to buy some soda and i thought "oh geez i must seem like a stranger, i bet they are judging me" But after repeated sunkist purchases over the next few weeks it was established that i was a resident and as such was treated more like community member. It's a kind of badge of honor. Little Jack's Patron. And though othere corner stores carry basicly the same goods, possibly with the exception of the cannon fuse carried at Little Jack's, there is just something special about having a corner store to call your own.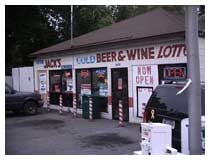 Posted by kyle at June 15, 2005 3:13 PM
Comments
I like Little Jack's too. The newspaper clippings from the 80s of their proud crime prevention because of ferocious dogs is something else.
Posted by: kevin at June 15, 2005 3:56 PM
i used to go to sami's all the time. though i do indeed love lil' j's, what it is lacking right now is sami's orange crush cream smoothies! that would be hot, right next door.
Posted by: george at June 15, 2005 4:24 PM
little jack's actually used to be in eastown, behind where subway is now
Posted by: benner at June 15, 2005 9:21 PM
remember when we looked at that huge house right behind the eastown lil' jack's? now like eight douchey guys from my high school live there now and they are always out on the porch. i would always see them when i went to cvs or to michael's house.
its a really weird realizing that i still get a little uncomfortable when i run into people i didn't care all that much for six years ago.
shouldn't i be over that? it's not like something ever actually happened that i need to get over. i think i think its just uncomfortable running into people from the past. especially when its 6 shirtless dudes calling to you from a porch.
it would have been sweet to live right next eastown lil' jack's.
Posted by: george at June 16, 2005 1:15 AM
what ever happened to their guard dogs?
Posted by: james at June 16, 2005 2:25 AM
Post a comment