« Corner Store | Main | My F(r)iend »
June 22, 2005
In need of help
Seems like alot of strange things are happening in grand rapids. There have been some crimes committed recently. Banks robbed, people shot, homes broken into. Kevin recently mentioned some gangs forming in my former neighbor hood. grand rapids is becoming a haven for criminal types. we are in need of a superhero. One time while waiting for the bus late at night a few years ago, audrey and i encountered a man for the job, he was shooting at some sort of invisible creatures with his fingers, and he asked for our assistance in "blowing this shit up", unforunately, and by that i mean luckily, the bus came at that moment and we were unable to help him. That guy might be right for the job of GR superhero. possibly there were creatures and maybe he wasn't as crazy as he had seemed, i mean he had an american flag on his bicycle, so clearly he believes in freedom and justice. I'm not sure though. I don't know, but a superhero wouldn't hurt grand rapids... it's just who is suited for the job?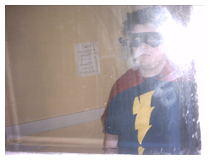 Posted by kyle at June 22, 2005 9:44 AM
Comments
Posted by: george at June 22, 2005 10:28 AM
What chance does Grand Rapids have, when the good people do nothing?
Posted by: Kevin at June 22, 2005 11:00 AM
Post a comment