« Clown Camp | Main | Carwash »
June 30, 2005
Vandenberg School
Across the street from 422, is the Vandenberg School, which right now is a adult education school, which re-opened in 2004. Apparently prior to that it was a elementary school until 2002 when it closed. Anyhow yesterday I was taking a picture of the school with a broken polaroid camera i had recently purchased at the new goodwill on 29th street. and i got this.


The picture is a little messed up. only part of it is there. put if you look at the right side of it, you can clearly see a human face and body.
here is a closer look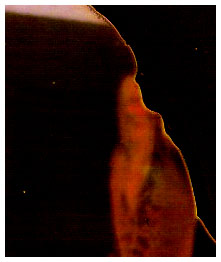 There is clearly a face there.
The internet hasn't returned any results about possible hauntings of this school. But the place is rather old which you can tell just by looking at the building. I can't really find much information at all about the Vandenberg school. It used to be called the Vandenburg Creative Arts Academy. And now apparently the Burg has been changed to Berg. which is somewhat odd, and the Creative Arts Academy has been dropped completely. I'm not a big believer is ghosts or anything, but man, what a wierd fluke, i mean what if that is mr.vanderb(e)(u)rg himself?

Posted by kyle at June 30, 2005 2:44 PM
Comments
his ghost is also like 20 ft tall
Posted by: todd at July 12, 2005 2:23 PM
no man, that's perspective, he's just really close to the camera.
Posted by: kyle at July 12, 2005 3:13 PM
that possibility occured to me, but it was much too scary
Posted by: todd at July 12, 2005 5:11 PM
Post a comment