« Vandenberg School | Main | Time Machines »
July 13, 2005
Carwash
A few days ago audrey and i went to wash her car at this place on alpine, i think it's called The alpine car wash. It's one of those Wash it yourself places. And at this place there was the wierdest sign ever.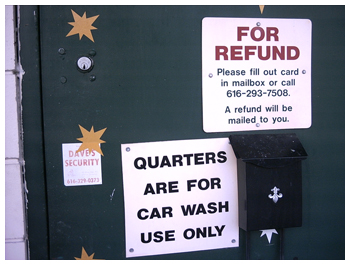 quarters are for car wash use only?
I seriously have no idea what this sign means. Apparently they are worried that you'll use the quarters from their change machine somewhere else. I don't really know what they mean at all.
***
Audrey and I will be moving, starting August 1st Audrey and I will be living at 420 Lafayette SE. Which is located right below my current apartment.
Posted by kyle at July 13, 2005 9:20 PM
Comments
1) Congratulations on the big move.
2) I wonder if people from nearby Apple Ridge apartments go there for quarters for laundry and so they beg people not to do that.
Posted by: kevin at July 13, 2005 11:56 PM
yes... congrats. i look forward to seeing you again... and i really like your new design. very classy.
Posted by: james at July 14, 2005 4:17 AM
Thanks james, on both counts.
Posted by: Kyle at July 14, 2005 1:19 PM
yes! you both will be in GR.
Posted by: jen at July 14, 2005 5:21 PM
Post a comment