« New Wallet | Main | Moved »
August 8, 2005
Comic Con
This weekend Audrey, John (Audrey's co-worker, and friend), and I went to the Chicago comic con. It was pretty fun. We took the train there. And we stayed at a travel lodge whose logo is pretty awesome.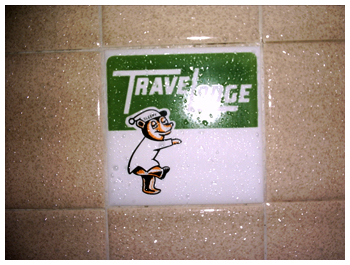 Anyhow at the con, i met Jeffery Brown. And he told me he went to city high. He was really nice, and his hair is kind of reddish brown, i always assumed it was blond from his comics. He said he lived in Grand Rapids until he was 24. Anyhow it was nice to meet him.

Posted by kyle at August 8, 2005 5:58 PM
Comments
i should have guessed city high, but really why would i be guessing at all?
Posted by: george at August 10, 2005 8:12 PM
fuck, i didn't know he was there.
Posted by: mark at August 11, 2005 1:52 AM
I didn't know either, it didn't list him. But he was at the top-shelf booth. Which was kind of cool because there wasn't anyone there talking to him or anything.
Posted by: kyle at August 11, 2005 4:48 PM
Post a comment