August 17, 2005
Feeder Fish
I've had these gold fish since I was a senior in high school. I've never moved them around with me from place to place during college, they've always stayed in milford. The gold fish are actually feeder fish I bought for 10 cents a piece at the local pet store. I bought ten of them but 4 died fairly quickly, in fact one of them was eaten by the others when I had forgotten to feed them for awhile. But since those 4 died 4 years ago none of the others have died. and they've actually all grown to be quite huge. When i first got them i had glued a whole bunch of army men to the bottom of thier tank, all of those army men have now come loose. But the fish still stay there. My mom feeds them, and everytime i go back i take a good long look at them. They are in the basement where my room used to be, my room has long been taken over for storage. So there my gold fish sit surronded by the odds and ends of my families belongings. and there, like those blind fish that live at the bottom of the dark ocean, they survive by some twist of nature.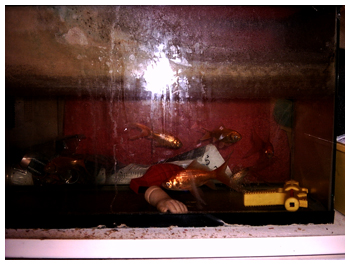 Posted by kyle at August 17, 2005 11:38 AM
Comments
ixnay on the flashay next timeay, er
Posted by: benner at August 17, 2005 1:05 PM
i don't know, man. it looks like a sweet orb of life.
i had a feeder fish that lived from junior of highschool to sophomore year of college. in that time i had to move her like 8 times.
stupid thanksgiving break move outs.
Posted by: george at August 18, 2005 1:39 PM
Post a comment