« tin tin | Main | Michigan's Adventure »
August 22, 2005
It's Grand Rapids, Jeffrey Brown pt.1
This is the first of a few posts where I will be posting references to Grand Rapids from the comics of Jeffrey Brown, a former Grand Rapids resident.
All of the following are from Jeffery Brown's second Graphic novel Unlikely.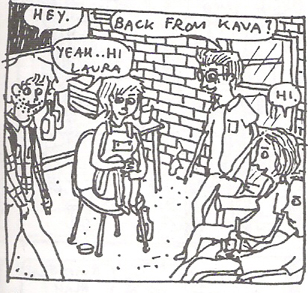 This is obviously a reference to the Kava House, which is on Lake Drive in East Town.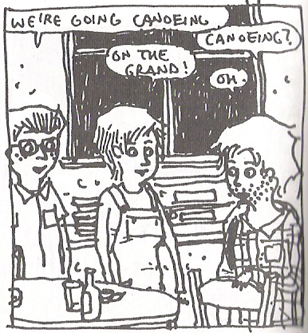 The "Grand" being the Grand river, which runs throughout many towns, including our fair Grand Rapids.

Again a reference to the Kava House. These repeated references to the Kava house lead me to believe that Jeffery Brown at one point lived in or near the East Town area.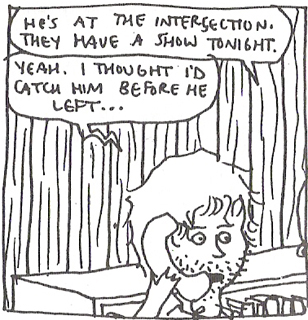 The Intersection obviously the music venue/ bar in Grand Rapids. Here he is referring to it when it actually lay at the Intersection of Wealthy and Lake Drive.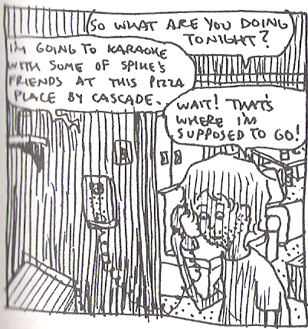 Here I assume it is Cascade the road which is being referred to. I'm not sure which pizza place this is. Anyone have an idea?
That does it for Part 1 of "It's Grand Rapids, Jeffery Brown" for those keeping score, These are all of the references up to page 38. Not counting the Whirlwind Heat Reference, which i'm not sure i should include.
Posted by kyle at August 22, 2005 3:47 PM
Comments
nice title
I think the pizza place is called village pizza or something. I could be wrong.
Posted by: anthony at August 22, 2005 7:30 PM
because they are from rockford?
at one point they played a lot in town.
Posted by: george at August 23, 2005 12:22 PM
well i'm not sure if i should include them because just because you mention a band doesn't mean it's a reference to the town they are from.
Posted by: Kyle at August 23, 2005 1:37 PM
but it's a mention of a then local band at a then worthwhile venue. it's not important at all, but i probably would have included it.
Posted by: george at August 25, 2005 8:06 AM
Post a comment