« It's Grand Rapids, Jeffrey Brown Part II | Main | Tough Luck »
October 28, 2005
Cereal Bonus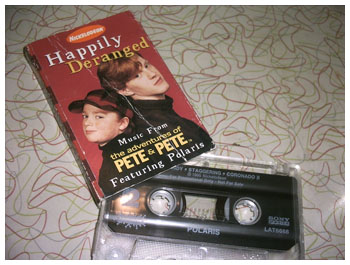 This cassette contains 3 songs by the band Polaris, and was a cereal bonus promoting the television show "The Adventures of Pete and Pete". For those who don't know I am a huge fan of Pete and Pete. I already have the Polaris CD which was compiled after the show had ended. But this tape is so much cooler. And was found at St. Vincent De Paul's. Where Audrey also found a cool old filing cabinet.
Aside from these acts of good fortune, I have been sick and working at Barnes and Noble.
Footnote: Pete and Pete also featured the music of The Magnetic Fields, Lucious Jackson and Apples In Stereo amoung others.
Posted by kyle at October 28, 2005 7:47 PM
Comments
Posted by: jen at October 28, 2005 8:18 PM
I have that too! Great music.
Posted by: Cailin at October 29, 2005 1:40 AM
The person who runs the first pete and pete site you linked to the one at indiana university is run by a computer science prof. and Calvin College. ps pete and pete is out on DVD
Posted by: joel at November 1, 2005 12:50 PM
I compiled a the rest of the music used in Pete & Pete on a cd a while ago. Magnetic Fields, Chug, Lucious Jackson, The 6ths, etc. Very good.
Posted by: Mandie at November 1, 2005 3:03 PM
Sorry I didn't read the end of that before I posted a comment.
Posted by: Mandie at November 1, 2005 3:04 PM
Post a comment