« Maxwell Smart | Main | Cereal Bonus »
October 8, 2005
It's Grand Rapids, Jeffrey Brown Part II
Segment 2 of my on going series of "It's Grand Rapids, Jeffrey Brown" Where I Post all of the Grand Rapids references in the comics of Jeffery Brown, fromer Grand Rapids resident.
In this segment we finish up Jeffrey Brown's second comic novel, "Unlikely".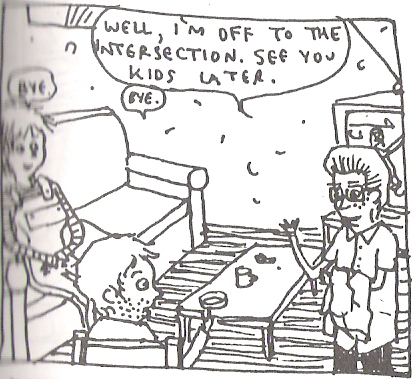 This panel is from page 40, and is referring to the old location of the intersection.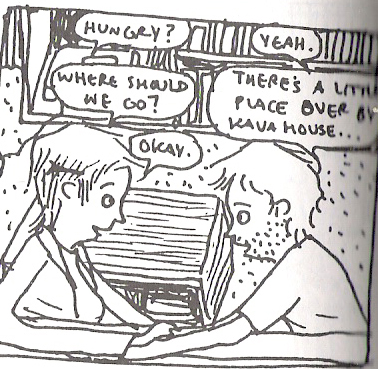 Page 59, the Kavahouse which is located in East Town.

Page 217, this isn't an exact Grand Rapids refrence, but Holland is pretty close by.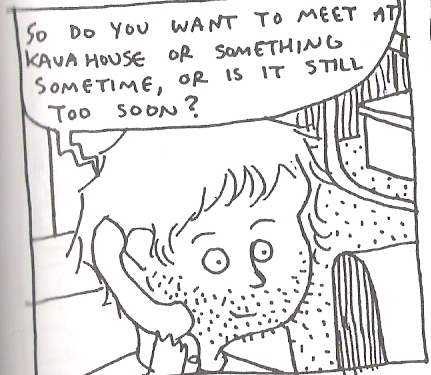 Page 218, again the Kavahouse.
Well that does it for this session of "It's Grand Rapids, Jeffrey Brown." And it also finishes up Unlikely.
For more Jeffrey Brown please visit:
Top Shelf

Posted by kyle at October 8, 2005 7:29 PM
Comments
I remember reading the Intersection refferance and being so pumped. I was like "holy smokes I have been there." Then someone told me the intersection he was talking about was when it was in Easttown. I didn't know what to think. I think he mentions the Whirlwind Heat too in Unlikely. Check his non-autobio comic in Drawn and Quarterly Showcace Vol 2 if they have it at the library.
Posted by: chris at October 9, 2005 3:57 PM
yeah, he does mention whirlwind heat. Yeah i've read that before. I guess the new comic he's coming out with is all stories about his childhood, which is pretty cool, as those i'm sure will be full of fun grand rapids stuff.
Posted by: kyle at October 9, 2005 4:21 PM
Post a comment