« Assassin | Main | Library »
February 3, 2006
Fun things about moving home...
I've been home for over a month now, and though it does feel kind of weird to be home, there are some good things.
I get to hang out with my little brother, who I think is pretty cool most of the time. Though admittedly his obsession with air-soft weaponry of the Soviet Russia can be a bit frightening.
My mom does nice things for me, like offering to buy paint for my room and shelves and such, and giving me her van.
I get to eat essentially free, and I get home cooked meals on occasion. Which is pretty awesome.
I have cable television, and though it does suck up a ton of my time I can watch Mythbusters every Wednesday at 9pm and that is pretty great.
I have my own room, which is something I put alot of value on.
Free high speed internet.
Being surrounded by the materials of my youth. Which includes the following lego Minifigs which I found last night while going through my Legos.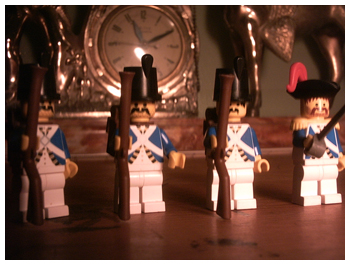 I'm a big fan of these guys and I'm hoping to make a much larger army of them, so if you have any of these imperial soldier minifigs let me know.
I also found this...


I think this guy was a cereal bonus, I think he might have been the enemy of the smacks bear guy, though I can't really remember. None the less he is pretty awesome.
So being home is pretty good, and though I am still unemployed I do have a promising interview tomorrow at Cartridge World where I will refill printer cartridges.
Posted by kyle at February 3, 2006 1:04 AM
Comments
And you really should get in touch with me sometime.
Posted by: Luke at February 3, 2006 4:56 AM
I have that same little robot man at my parents house, and for years i've been wondering where it came from. I've always thought it was pretty awesome.
Posted by: ryan at February 3, 2006 9:41 AM
http://www.x-entertainment.com/messages/598.html
I thought I posted something saying that that guy is from Cap'n Crunch but it isn't showing up. That website has some fun info and, I think, some commercials featuring the little fellow.
Posted by: Anthony at February 3, 2006 10:56 AM
yeah, that's the sogmaster! and i loved those spanish caribbean lego guys.
Posted by: kevin at February 3, 2006 11:45 AM
I'm living at my parents house right now and my life sounds remarkably similar to what you described: Legos, Mythbusters, food, internet. All except for the Sogmaster. Never had one of those.
Posted by: kevinb at February 3, 2006 5:56 PM
MythBusters kick arse; and I do mean TOTAL arse!
Posted by: Lilly at March 1, 2006 3:43 PM
Post a comment