« Fun things about moving home... | Main | Rejection Collection »
February 10, 2006
Library
Since I've been home I've been going to the Milford Library a lot. Milford's library used to be really small but a year or so ago they built this very large new library along with a YMCA. The new library is very cool, and though their collection isn't huge it is ample for the size of Milford, and it sports a fairly large comics section, along with many videos, dvds, cds and a fair number of magazines. But by far the coolest thing about the Milford library is that instead of barcodes on their materials they use RFID tags, so they just set your books on the counter and the computer reads the tags and checks them out. It is really cool. And it is cool to see Milford adopting a fairly recent technology.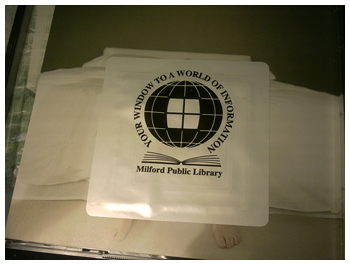 This is what the tag looks like.
Posted by kyle at February 10, 2006 1:28 AM
Comments
what i dislike about the milford library is the space to book ratio---i guess it feels like they could have sacrificed a really extreme sense of open space for a lot more books. what i do like about it is the view of the pond in the back and that it is not the commerce township library, which was created this past summer and is located inside a golf club (it also, as of my last visit has more books on cd than actual books). also also, with its creation the city of commerce ended its contract with west bloomfield public library, which is huge and full.
i guess maybe you don't care about the second half, but i'm still really mad.
Posted by: beth at February 10, 2006 7:29 PM
Post a comment