« Star Wars Weekend | Main | Rat »
March 19, 2006
Playmobil
Lately since i've had a little money from working at cartridge world i've been buying some useless things. Since i have very strong collector tendencies this can be bad, as it leads to me starting new collections. So my newest collection is playmobil figures, or as collectors call them "Klickies".
Here are a few of my favorites.

A union soldier.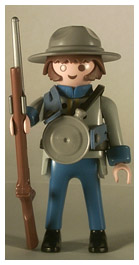 A confederate soldier.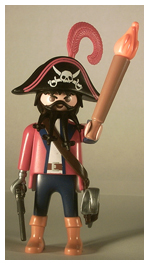 A blackbeard type pirate.
The best part about collecting these guys is that there is a toy store in milford, which is withing walking distance, that sells tons of them.
Collectobil (Playmobil collectors forum)
Posted by kyle at March 19, 2006 10:45 PM
Comments
Those were my favorite toys when I was little!
I have the pirate ship, haha : )
Posted by: Colleen at March 20, 2006 1:34 AM
I had a fort and the island and a boxcar. Never got a castle though. I loved playmobil.
Why are they called Klicky?
Posted by: Anthony at March 20, 2006 9:00 AM
i think they are called klickies because when you take them apart or put them together they make clicky noises.
Posted by: Kyle at March 20, 2006 9:09 AM
I was totally a Lego man.
Posted by: Justin at March 22, 2006 12:10 PM
Post a comment