April 18, 2006
The Masons' Temple
When I was in high school, Milford actually had a kind of wierd music scene to it. There were alot of ska and punk bands during my freshmen and sophmore years. There were alot of basement shows and things like that. The one venue we did have wasn't really a venue at all. It was actually just Milford's Masons' Temple which could be rented for things like wedding receptions and such. So people would rent it to book shows there. At first it was pretty much just local bands that played there. For instance I saw the milford ska band Skazilla there. (Members of Skazilla later went on to form Bear Vs. Shark.) Later on during my Junior year a kid named Matt Billings, who is now the noise musician Raven Strain, booked touring bands there. One of which included Pg.99, one of the best Hardcore bands ever. Kids from all over the place came to that show. which included the setting off of bottle rockets indoors and all sorts of nonsense. A band I was in once played there too, Six Ways From Sunday, it was actually the first show i ever played. We played that show with the band It's a Wise Child which included Matt Bustamonte, current bassist for Pas/Cal. So as you can see the Mason's Temple was really the launching point for alot of Musicians. The temple was totally creepy and upstairs there were wierd pentagram covered chairs, and swords and wierd gowns.
Now the Masons' Temple is a pilates Studio.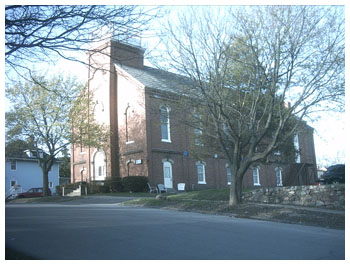 The temple as it stands today.
Posted by kyle at April 18, 2006 12:20 AM
Comments
that many people do pilates in milford?
Posted by: george at April 18, 2006 4:39 AM
I was wondering the same thing about the pilate situation in milford.
I knew a guy from milford, Frank. Frank from Milford.
Masonic temples are creepy.
Posted by: docbeezy at April 18, 2006 11:55 AM
yeah there are a lot of rich house wives in milford
Posted by: Kyle at April 18, 2006 12:41 PM
the masonic temple in flint is still used for a lot of shows(al least lately while. I dont know whats up with the Flint Local 432)
Posted by: sam at April 18, 2006 10:16 PM
I've been to the flint local a few times, all of them during high school. My friend's band, El Camino Car Crash, played there a few times. I thought it was a pretty cool place.
Posted by: Kyle at April 18, 2006 11:11 PM
yeah, i was wondering about the local. The local isnt the same as it was back in the day when it was actually at 432.
Posted by: docbeezy at April 19, 2006 3:14 PM
Post a comment