« Breakfast of Champions | Main | Nostalgia »
July 2, 2006
Mini Vacation.
I am on a little, mini vacation with my mom and brother right now. We are in Tawas/ Oscoda, MI. This is the first family vacation type thing we've had in a very long while. It has been pretty fun. I am infact creating and uploading this entry from our hotel room, thanks to their free wi-fi.
So what have we done so far? Not much. We went to a few garage sales where i purchased The Rise and Fall of Ziggy Stardust, and Revolver. Nicholas bought a few boxing gloves and a punching bag. We bought some cheese in Pinconning which according to my mom is Michigan's cheese town. We walked around East Tawas. And we went to my grandparents house in South Branch, they weren't home. We also saw a Paul Bunyan statue, illustrated here on the back of a Big Boy place mat.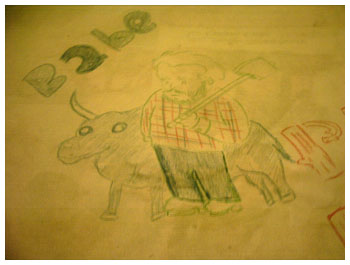 And we ate at a Big Boy, illustrated here on the back of another place mat.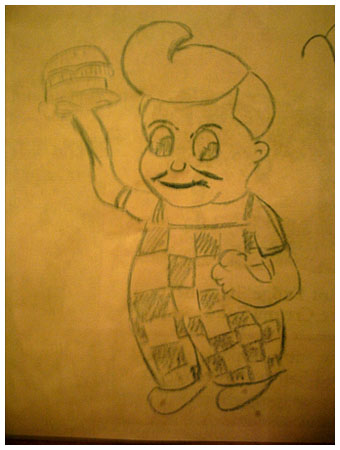 All in all it has been a pretty great trip and I look forward to tomorrow when I might: go bowling, see my grandparents, go to a park with cool old fashioned play equipment, see a movie, go to more garage sales.

edit: apparently gvsu has taken my student space offline. After having been graduated for a year now i should have expected this, so my pictures won't show up until i find some other place to store them. Sorry.
Posted by kyle at July 2, 2006 10:20 PM
Comments
Where did Big Boy get that hilarious mustache?
Posted by: jdawe at July 6, 2006 12:04 PM
when i started drawing with dull crayons.
Posted by: kyle at July 6, 2006 1:04 PM
Post a comment