« My Bloody Valentine and My SK-1 | Main | The new old me. »
August 16, 2006
My Bedroom
I talk alot about my room, and my collections, and my love of other people's rooms and studios and such. I like that stuff alot.
So in hopes that this will start a trend among G-radders. I am posting a picture of my current room at my mom's house in Milford, MI. I hope that others will follow my lead here and post a picture of their room, or their desk where they work, or whatever they've got.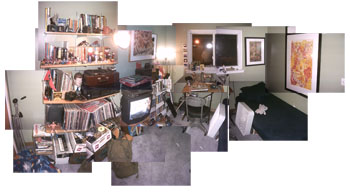 Click for a larger version.
Posted by kyle at August 16, 2006 12:52 AM
Comments
i was thinking of your duel love for personal spaces and documentaries today- i watched chris smith's portraits of atypical dwellings in 'home movie'. if you haven't seen it, i'm sure you would be into it. so much.
Posted by: todd at August 16, 2006 1:19 AM
Posted by: george at August 16, 2006 8:49 AM
Yeah Todd, I've seen that movie before. It's pretty good. The treehouse, is amazing.
Posted by: Kyle at August 16, 2006 3:58 PM
Post a comment