« Challenge | Main | On Site »
October 9, 2006
Busy Bunny
I've been so busy the last 2 weeks, at least when compared to the last 6 months. I've been working at my new job, which is actually a pretty good job. I basicly make training videos for GM. I get my own cube (icle), and my own computer,and phone, i get to do a ton of different things including graphics, editing, production stuff, planning, copy writing. It is by far the best job i've ever had. It is a wierd situation though since I am pretty sure i'm the youngest person working in my office. Which doesn't seem all that wierd, but being young and new means people aren't sure of your skills so you get tested alot. My co-workers are really nice though and that makes being new not as frightening.
Not alot of people know this but I like cars. I don't read car and driver every month or anything, but ever since i've been driving i've really liked working on and knowing things about cars. So getting to work with cars is pretty cool too. I get to see what cars are being recalled, and what cars are coming out soon, things like that. It is also interesting to be a part of industrial video making. It really isn't a part of video or film you think about when you are going to school. There is like a whole crew of people who basicly just make industrial films in the Detroit area and they all know eachother and stuff. It has it's own little scene. It is also cool to think about how I am involved in the making of emphemera films of tomorrow.
Also the job has afforded me the ability to buy my first new car.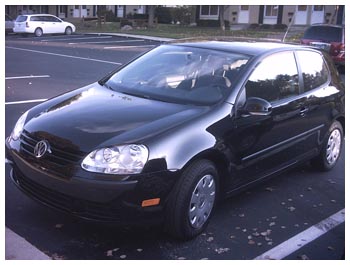 A 2007 Volkswagen Rabbit. I love Volkswagens, my last car was a1991 Volkwagen Golf. This car is so awesome i can't even explain. But to give you an idea of how cool it is, it came with a free guitar which can be played through the car speakers. Which is the corniest and coolest option ever available on a car. Also the port you play the guitar through can also be used for Ipods and any other external source capable of outputting to a mini jack.
Aside from all of this excitement, Audrey and I will be leaving for a weekend in Washington DC on friday. There we will visit the Small Press Expo and buy tons of comics.
Posted by kyle at October 9, 2006 6:08 PM
Comments
wow congratulations kyle!
Posted by: george at October 9, 2006 6:53 PM
Congrats all around buddy. I love the car... puts my Jetta to shame. And working at GM and having a VW... awesome.
Posted by: Luke at October 9, 2006 9:04 PM
Posted by: mark at October 9, 2006 9:20 PM
a-mazing!!!! congrats!! have fun in DC.
Posted by: jen at October 9, 2006 10:12 PM
Whoa! Cool job/car/guitar. Congratulations!!
What kind of guitar was it?
Posted by: Cory Weaver at October 9, 2006 10:12 PM
The guitar is made by First Act, you might know them from all of the kid instruments they make and sell at like Mejier. I guess they are trying to change their image and make some better instruments. This one is better than the ones at mejier, but not by a ton. It does have some cool stuff like built in effects and some vw insignia inlays.

Thanks alot everybody. I am very excited.
Posted by: Kyle at October 9, 2006 10:22 PM
Wow. That rabbit is cool.
I totally feel you on the ephemera video thing. When me and Mike would make videos for GVSU, we would always think about how crazy most of it was going to look 15 years down the line.
Posted by: anthony at October 9, 2006 11:19 PM
Glad to hear things are going so well!
Posted by: Chris O at October 11, 2006 8:14 PM
Post a comment