« Latest Reads Dec. 2006 | Main | My Ride Home »
December 28, 2006
People Moving
Today, Jen came out to Milford so that we could go with her to scope out the Detroit People Mover as a location for a short film she is working on.
It has been awhile since I've been to downtown Detroit. In high school I went there frequently to see shows and stuff like that but haven't really been much since then. I always liked Detroit. And this recent trip was really cool. We rode the people to every station, and got off at every station to take a look at it. The people mover might be the sorriest of all rail transit, but it is still pretty cool and it is cool to ride the whole thing and stop at every station. I shot some video, and Jen and Audrey took pictures. It was really great. And a cool way to see all of the new projects Detroit has going. I have to say they have really done a great job making downtown nicer. I'm sure it has been at a great expense, but it really does look nice down there. Anyhow, it was a pretty fun day, and it was really great to see Jen on her small trip home.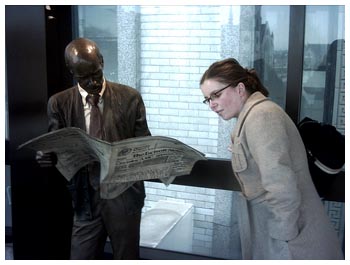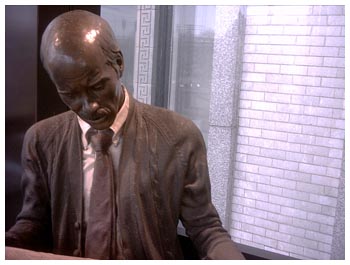 This thing is a really crazy realistic statue on the platform of one of the people mover stations. Crazy realistic.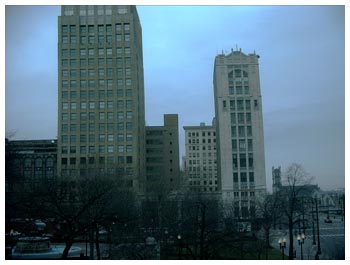 Posted by kyle at December 28, 2006 8:39 PM
Comments
i remember having nightmares about that statue after seeing it when i was younger.
Posted by: beth at December 28, 2006 11:40 PM
when i was in second grade, my girl scout troop took a picture with that statue.
Posted by: emily at December 30, 2006 1:08 PM
that was a good day! i'm glad i could see you guys.
Posted by: jen at December 30, 2006 6:30 PM
Post a comment