« the morning after | Main | cobalt blue »
January 5, 2006
broken glasses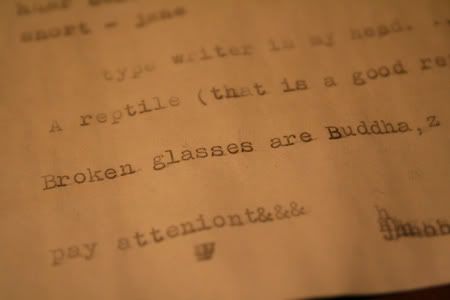 this was my favorite part of the typewriter page. written by my friend after my favorite glass, which i got in belgium, fell and broke.
Posted by emily at January 5, 2006 5:01 AM
Comments
i will not lie. when i read this i (hazily) remembered knocking a glass off the front steps while smoking. if i am at fault, i will promise you something amazing as penance.
Posted by: tom at January 6, 2006 3:28 AM
oh, no worries, sir. it happened in the spare room, we were toasting to something and it got knocked out of my hand.
Posted by: emily at January 6, 2006 4:26 AM
Post a comment