ATTN: Kyle Bradell
&middot My parents might get this cat: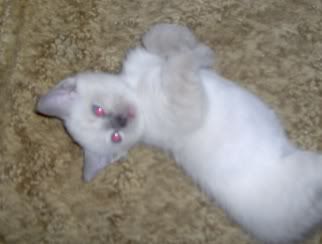 Several years ago my dad wanted a barn cat to kill the mice in the 'barn'. He got a free Siamese cat named Ling Ling from a guy a few miles away. We'd never owned a cat before, but Ling Ling was great. She couldn't come inside, but she was friendly. And horny. She had several litters, even producing a genuine Calico. Before my parents could get her spayed, she was hit by a car. We kept one of her daughters and gave the rest away. That one, Lance named Cujo, produced several litters. My dad took her to get spayed one day but there was a bad storm and the place closed. Cujo was eventually hit by a car, as was her daughter that we kept. And now, no cat. Hopefully we can have another Siamese. And we'll spay this one. Thank you, Ashley.
&middot I noticed Kyle Bradell is running for Michigan State Representative in the 74th district. Just read his views. He certainly has travelled a bit. Still, though.

He's no Kyle Bredell.

&middot Is anyone willing to write a story called "Tuesdays with Moriarty" about a weekly tea between Sherlock Holmes and Professor Moriarty? They set aside their differences once a week and just chat.
&middot Is there a way to kill apathy?