MARIO WORLD...AS ART...HEHE
AUGUST 8, 2006 3:52 PM
i found this short article on Media Art Net! today.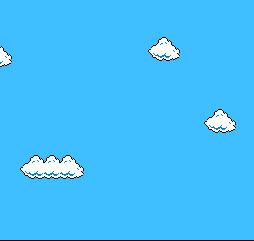 "Cory Arcangel
«Super Mario Clouds»
«Super Mario Clouds» is based on the «Super Mario» game for Nintendo's NES game console. Cory Arcangel hacked the game and modified it so that all that remains of the game are the white clouds on a blue sky. Gone is the main character, Super Mario, who the player had to guide through a labyrinth in the original jump and run game, just like the obstacles, landscapes and opponents that lend the game its narrative structure. Those people who are familiar with the game can imagine them on the empty background, everyone else will just see the cartoon-like display of a sky. The work was created on the basis of a manipulation of the hardware and software. Cory Arcangel had to open the cartridge, on which the game was stored, and replace the Nintendo graphics chip with a chip on which he had burned a program he had written himself."
yep, thought it was pretty interesting and might interest a few people. i checked out his web log as well, he goes through a much more thorough explaination of his piece ->right here<-